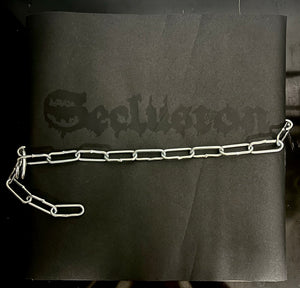 SECLUSION | OCCULTESS UNKNOWN | TEST PRESS EDITION PRE ORDER
Sale price Price $79.97 Regular price
*please note this is a pre order and ships in 8-12 weeks*
'this is the best death metal from texas right now' was spoken affirmatively but quietly as if no other words were needed to convince oneself of the enormity of oppressive and condemning misery that seclusion - occultess unknown… ' still holds to this day. of course those words were spoken and the tape was handed to me in one of the best bars that country has to offer but even the warmth of the jukebox and fall and the broken peanut shells could not hold back the distance this demo will make you feel. the vast expanse between one's own intellect, identity and sense of security. a stone-weighted synth might even appear but don't let that concern you…. this is perhaps one of the only demos involving even close to the glory and blasphemy of the fleshgrind demos but with a more textural and tomb like production. rumors of the self-immolation photo shoot has been largely spread and supposedly contested. but let the images and flames themselves engulf one cloaked figure on the cusp of unnecessary anger, parading confidently as the flames reach higher and higher speak for itself. the meat hook is waiting for you and the ones you hold close.
originally released on cassette on thee broken window with bones and wax.
ftw and enter the flames or dangle with mediocrity on the hook above the cow skull bones and silky vertebrae. for those with an allergy to modernity.
test press edition of 19 with meat hook and chain in paper alternate black butcher paper cover.
digital download code included.