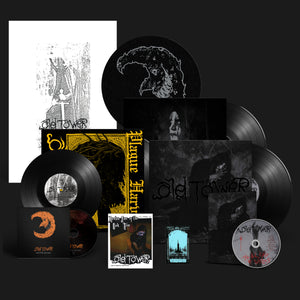 Old Tower Bundle | Black Vinyl Edition
Sale price Price $147.97 Regular price
limited bundle of 333 includes:


- The Old King of Witches LP
- The Old King of Witches A5 CD
- Plague Harvest / Ruination, a New Dawn Cometh LP + 10"
- Grim Alchemy LP
- Tales of the Mad Moon 2xCD digipack
- Triton Reef Spires bonus cassette (bundle exclusive)
- Old Tower 'Mad Moon' silkscreen black felt with silver print slipmat (bundle exclusive)
- xeroxed poster (comes folded)
- Beaten Face of the Oak Tree no. 01 - zine with interview, flyers, behind the scenes and unreleased photos


All audio releases include digital download code, including CDs.

Triton Reef Spires


Exclusively available to this bundle is a new cassette containing brand-new and obscure material. The trumpets sound far in the distance over the cerulean seas, invoking the surges that flow eternally through the sunken coral temples. 'Triton Reef Spires' is the heat burning the limestone structures, the flickering on the ultramarine surface, allowing riddles to wash ashore and ponder within the spirit of man. 


Bonus cassette with xerox cover and digital download code.


Note: limited to a total of 333 bundles across 3 variants:

• all black vinyl
• all color vinyl
• all picture discs
• the bonus cassette, poster, and zine are the same for each variant and are included with all bundles!