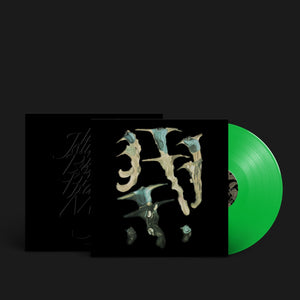 RAINFOREST SPIRITUAL ENSLAVEMENT | JELLYFISH REPRODUCE BLACK MAGIC | NEON GREEN VINYL 12" EP
Sale price Price $27.97 Regular price
'jellyfish reproduce black magic' is the companion ep to the 'flying fish ambience' album by RSE.


the nature of a 'permanent record' whether digital or encrypted in the fossilized remains of evolutionary anthropomorphic species or 'economic DNA' left behind only further supersedes 'artificial reality' of environmental imprints. The alternative 'occult economy' is both reproducing and perpetuating a lethal life force.

the essential premise of RSE remains 'artificial spaces' and 'synthetic nature' where superstition and fantasy meet, collide, and decay. the moment one discovers that they themselves are the monuments and ruins at the journey's end destination.

neon green vinyl edition housed in deluxe die cut 12" jacket with interior print and spot gloss uv lamination.
includes digital download code.