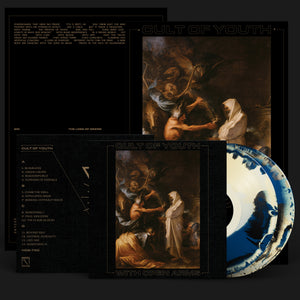 CULT OF YOUTH | WITH OPEN ARMS | BONE WHITE/BLUE/BLACK MERGE VINYL 2XLP
Sale price Price $44.97 Regular price
cult of youth began as a bedroom project in 2006 when founder sean ragon took a broken acoustic guitar, a $20 mackie mixer, and a roland rack synth and tried to recreate the atmosphere of the post-industrial and neo folk records he had been obsessed with since childhood. the project eventually evolved into a fully fledged band and for the better part of a decade released a string of genre-bending albums that made perfect sense to some people and absolutely no sense to others.

in 2015, after years of relentless touring, the band packed up a studio's worth of equipment and drove up to the mountains in vermont with no plan, no songs, and enough psychedelics to brainwash an entire state. by day two they had cleared out a derelict barn and built an entire studio running off a gas powered generator rented from the local hardware store. that studio included a wall of gongs, a 9' marimba, a weapons grade arsenal of analog synthesizers, a 24 channel mixing console, and a full blown PA system and not to mention some truly unusual instruments ranging from a human thigh bone and a champagne cork!
over the following weeks they lived completely off the grid, spending most of their time doing farm chores, shooting guns, hiking, and recording with a clandestine cast of collaborators. every harebrained idea that passed through their minds was exercised – nothing was off the table.
at some point reality set in so everyone begrudgingly returned home to the reality of their regular lives. over the next 5 years, these skeletons of songs would be cut up, arranged, sampled, reversed, and otherwise deciphered in various studios throughout queens, berlin, and brooklyn.
jeff berner (whom sean met during his tenure as a touring member of psychic TV) was enlisted in late 2020 to put the finishing touches on what seemed like an insurmountable task – turning this trove of raw material into a cohesive work of art. 
which brings us to now, the fruits of their labor presented for your pleasure: a 62 minute long double album that serves as a sonic effigy of all the pain and suffering collectively experienced over the past 7 past years, a psychic exorcism, and a triumphant rebirth.
on 'with open arms' the new album from cult of youth in seven years transcends the influences of the esoteric underground and resurfaces as a "pagan post punk" epic.
presented in deluxe linen wrapped, embossed, foil stamped, tip on gatefold jacket.
digital download code included. 
first 500 copies on bone / blue / black merge include massive 2 sided poster.