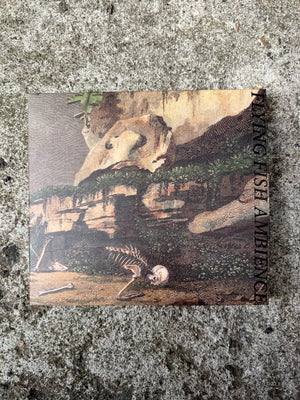 RAINFOREST SPIRITUAL ENSLAVEMENT | FLYING FISH AMBIENCE | DIGIPACK CD
Sale price Price $14.97 Regular price
the rainforest spiritual enslavement environs complement 'artificial spaces' and 'synthetic nature' through the decay of 'digital rain storms' and 'falling comet bass drops' - 'flying fish ambience' is the duo's first studio album together after a series of tours, and builds the RSE sound into a deep hypnotic synthetic topography and guided meditation into perpetual stress.


the follow up to the acclaimed 'ambient black magic', 'flying fish ambience' is a treatise in anti-exotica - a purpose-built artificial ambient wilderness rooted in wobbling sub-bass, watered wastefully with glossy digital FX.


meticulously assembled over a series of trips, tours and sessions in various cities (berlin, paris, new york) 'flying fish ambience' crystallizes the expansive perpetual motion of salt vessels and water basins repopulating with ecological imbalance, this evolution - as an expression of the live blue entity.


Words from RSE:


flying fish ambience flies again

dies again

and splashes through the dark blue waters again and again

to the deep water blue

to the crumbling sandbanks

and to the crumbling monuments

and to a world of unknown deeps

and washed out sands

sun rippling ocean blue

across skeletons of those left behind and skeletons of the mind's green eye!

blue herb ambient returns!

you are the journey's end!
spot gloss digipack CD with mini poster and download code.