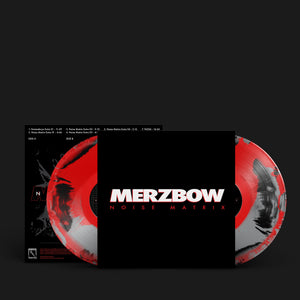 MERZBOW | NOISE MATRIX | RED/BLACK/SILVER MERGE VINYL 2XLP
Sale price Price $39.97 Regular price
noise matrix unleashes material from the same sessions as noisembryo and counterpart 'hole' and selected recordings from the time period.


originally released as a bonus disc on the definitive 'noisembryo' 2xcd edition  noise matrix absolutely can't be missed for fans of this period of noise deity merzbow. When people ask where to start with merzbow or the entire 90's noise movement in japan - this is an answer!


masami akita's surrealism of the past stands prominently relevant to this day combining the expansive textures of electronics, effects, aluminum soaked winds of the tokyo metropolis and metals. presented in deluxe wide spine metallic reflective 'mother of pearl' jacket. digital download code included.
red/black/silver merge vinyl edition. see photo for actual vinyl colors, mock may not reflect exact color.