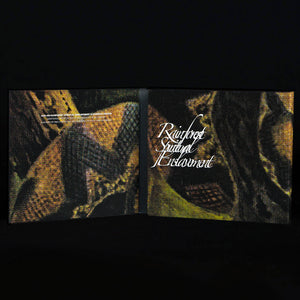 RAINFOREST SPIRITUAL ENSLAVEMENT | AMBIENT BLACK MAGIC | 2xCD
Sale price Price $17.99 Regular price
rainforest spiritual enslavement is the ambient techno project of dominick fernow. focusing on slow paced bass studies and and synthetic dub textures, surrounded by collaged and looped field recording environments, rse shrouds sound over image to target the sector of brain where fear supersedes rationality - the imagination. as rse appears live for the first time it has transformed into an entity with rotating contributors on stage and on recording.
'ambient black magic' moves away from the extreme saturation of the early cassettes and the industrial environmentalism of 'green graves', and defines itself simply as contemporary 'fear/chill-out' dub.
the new album "ambient black magic" features sound on sound processing by silent servant, a massive dub remix from substance, and mastering by paul corley.
2x cd digipack.