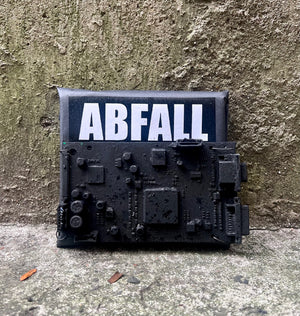 ABFALL | NITROUS OXIDE | SPECIAL EDITION 2XCD PRE ORDER
Sale price Price $49.97 Regular price
*please note this is a pre order and ships in 8-12 weeks*
from the no man's land of smoke stacks, atlantic city and newark airport, the highways of 'angel dust whore' and 'vandal x', rests the condemned infrastructure known as ABFALL. one of the early purveyors of dial-up noise communications through the early noiseweb site which collected label news, interviews, and the rare and explicit live photos from the 90's scene, ABFALL was the humble but vital project of its founder. known from macabre collaborations with navicon torture technologies and the utterly hard - corrugated steel battered split tape from mother savage with japan's AMB - ABFALL produced a disturbingly diverse section of understated, gestural, concrete, turntable and bass loop works - which until now have remained charging like 18v power tool batteries in the archive of jersey's most polluted shore. 'nitrous oxide' exposes you and perhaps someone you used to love with the poor air quality of the only living new jersey avant-garde.
presented in 'high' deluxe 2xcd digi pack. faithfully restored by kris lapke. digital download code included.
special edition packaged in handmade black paper wrapped, wire and painted circuit board. edition of 13.
seriously this will surprise even the most obsessed listeners!